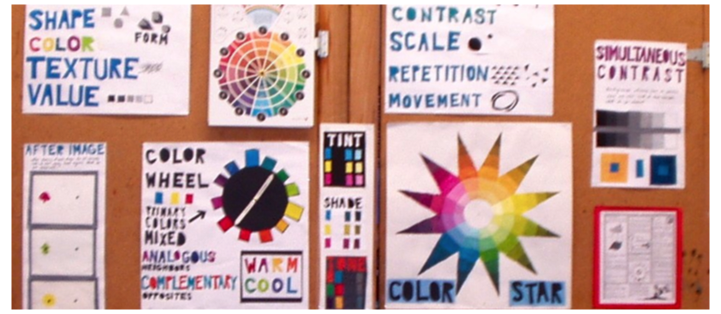 Welcome to Ms Grunt's Art Courses
Penn Wood High School
These pages will help students navigate materials relevant to my classes at Penn Wood High School.
I will attempt to upload copies of assignments, homework charts, project rubrics and student work. By spending some time browsing these pages you will be able to see artwork done by students and hopefully become inspired by their work. For students and families this is a great way to know about upcoming deadlines and special announcements like the Art Show and college visits to our school.
If you have work on this site and would like your name published with your work, please email me and let me know!
I can be reached at: agrunt@wpsd.k12.pa.us
National Portfolio Day
This year's announcements Philadelphia National Portfolio Day will take place at the University of the Arts on Sunday, October 27th, 2019. Review the 'College Planning' link above and research schools that will be present. Lines can be very long so you'll want to be sure you prioritize schools you are most curious about. Details may be found here.
Congratulations to the following students!
Click to enlarge images.
(if you're an alum and wish to share news please email me)
Click here if you'd like to learn about paintings Ms. Grunt made in and around Lansdowne during her 2016-2017 sabbatical.
Interested in how being an artist shapes my experience in the art room? Click here for an article I wrote for the Pennsylvania Art Education Association's newsletter.
Philadelphia Architecture and Design College Fair
Saturday, October 19th from 10am - 2pm
Temple University
Details may be found here.
Welcome
Welcome to the 2020-21 School Year!
If you are having trouble finding information about our class, please join our Google Classroom for support materials.
Important!
Please continue to try to take good care of yourselves during this time. If you need information about Covid 19 I encourage you to go to the website set up for residents in Delaware County. News is changing rapidly. Check back often:
http://www.delcopa.gov/ich/resources/coronavirus.html
While this is a difficult time, if you have accurate information it will help you make better decisions and understand what is going on. Take the time to be informed.
The Centers for Disease Control is another important source for news about Covid 19.