Ms Grunt's College Planning page
Penn Wood High School
Stop! Before you go any further, please check out deadlines for FAFSA! Currently the FASFA applicaiton opens October 1st.
Follow this link to the FAFSA home page.
I cannot stress enough the importance of getting an early start on this paperwork and being aware of deadlines.
It is important to start to think about what you hope to do after graduation, and the sooner you do this, the more time you'll have to research different schools that might interest you. I encourage you to talk to as many people as you can, and to try to visit some area schools to see what appeals to you.
As I find out about other scholarship information I will post here:
Scholarships (for art and general admissions)
Private versus Public colleges or universities: Is one going to be more affordable?
The cost of attending college is a major factor you will likely be considering during this process. It is worth noting which schools are publicly funded, as the tuition may be much less at public universities. That said, depending on the school, private schools may have more money to award in the form of grants, which can help to lower tuition considerably. Typically grants do not have to be paid back and often are awarded based on the quality of artwork submitted in your portfolio as well as your family's financial circumstances. Keep in mind some financial aid can include sizable student loans that, unlike grants, have to be re-paid. Therefore, applying to a combination of public and private schools may be a good move, as you can then see what types of grants you are awarded and how much it will actually cost for you to attend each school.
Here is a link to calculator for a competitive private college that shows how, depending upon your family's circumstances, a student who is accepted may only pay a fraction of the actual tuition. This is a liberal arts college offering a BA degree, but it does help to illustrate the point:

http://www.wellesley.edu/admission/affordable/myintuition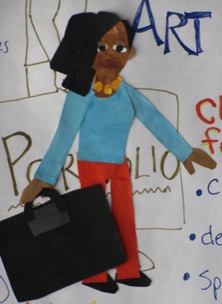 The above chart includes many art programs of interest located both locally and nationally.  Many different majors are shown that may be close to areas of study you wish to pursue.  This chart may be printed to allow you to check off programs that offer the majors you would most like to study and narrow down your college choices.  Look at college web pages and navigate to where they discuss the major areas of study to be sure they offer what you want. To download this chart for printing click here. To download a chart with a blank 'schools' column, click here.
Also, consider attending National Portfolio Day when it comes to Philadelphia usually in early November. Art schools send representatives to this event who are available to meet with you in person and look at your work. Some Penn Wood students have even had their portfolios accepted on the spot, giving them an edge in the admissions process. Also, attending this event allows you to make helpful connections with admissions counselors. Note: it gets crowded and lines are long. Be certain to arriver early! For more information about National Portfolio Day, click here.
First, some important questions to ask yourself as you begin researching colleges:
What do you want to study?
Where do you want to live?
Are you open to moving to a different part of the country, etc.?
Costs: Do you plan to apply for financial aid and/or scholarships?
Key concepts that are important to understand as you research schools:
Type of Degree offered
Does the school you are considering offer a bachelors degree? This is the degree awarded upon completion of four years at an accredited college or university. If you are considering a two-year school, such as what is offered at a community college or two-year art school, typically you will earn an associates degree when you graduate. For some students this is a good option as it gives them a chance to complete a degree and then possibly transfer to a four-year BA or BFA program, entering as a junior. It is worth noting that this can be a way to reduce the overall cost of a four-year degree.
In a regular four-year college or university, most students earn a Bachelors of Arts degree. This does not necessarily mean that they studied art in college, which can be confusing. Rather, to denote studying art, as you may be used to doing in your high school classes, colleges will refer to this as "Fine Arts". Therefore, you might study Fine Art and earn a Bachelors of Art with a major in Fine Art or Studio Art. Alternately, you might study Fine Art at an art school and earn a Bachelors of Fine Arts Degree
What is the difference between a Bachelors of Art (BA) and a Bachelors of Fine Art (BFA) Degree?
BA: This is a degree typically earned by those who attend a four-year college (often called a 'liberal arts' college). They may study math, english, science or art as a major subject (about 1/3 of all of their course work). The remaining courses are required in a variety of subjects to give a braod education in a variety of humanities, science and arts classes. If you opt to earn a BA in fine art you will not have as many art classes as if you opt for a BFA degree.
BFA: This reverses the Bachelors of Art Degree. Here, approximately two-thirds of your course work will be in studio art, with the remaining third being a combination of humanities, science and social science classes. Four-year art schools typically offer a Bachelors of Fine Art Degree. Within a Fine Arts program there are many different art-related majors you might study, including interior design, fashion, painting, ceramics, or web design. Essentially you begin with exposure to a broad array of studio classes and specialize in a specific field of art or design in your major.
What is a portfolio and what should be in it?

A portfolio refers to a collection of your artwork. Portfolios are typically large folders designed to allow you to carry many pieces of art, often made of heavy duty paper or cardboard. If possible, it's a good idea to get as sturdy a portfolio as you can find.
You might take your portfolio to an art school and have an admissions officer review your work to determine your eligibility to apply for and/or receive a merit based scholarship. Portfolios also may be sent electronically to a school when you apply by uploading photos of your work.
Because a portfolio is one of the major factors taken into consideration when awarding merit-based scholarships (along with your grades) you will need to put a lot of time and work into your portfolio if you are trying to earn a scholarship. Students who take Studio Portfolio I and Studio Portfolio II have a good chance of developing a portfolio that will recieve some type of merit-based award, based on past Penn Wood student experiences. Check out the schools you are interested in to see what they are looking for. The following link provides guidelines that may be helpful in putting together your portfolio: Portfolio Guidelines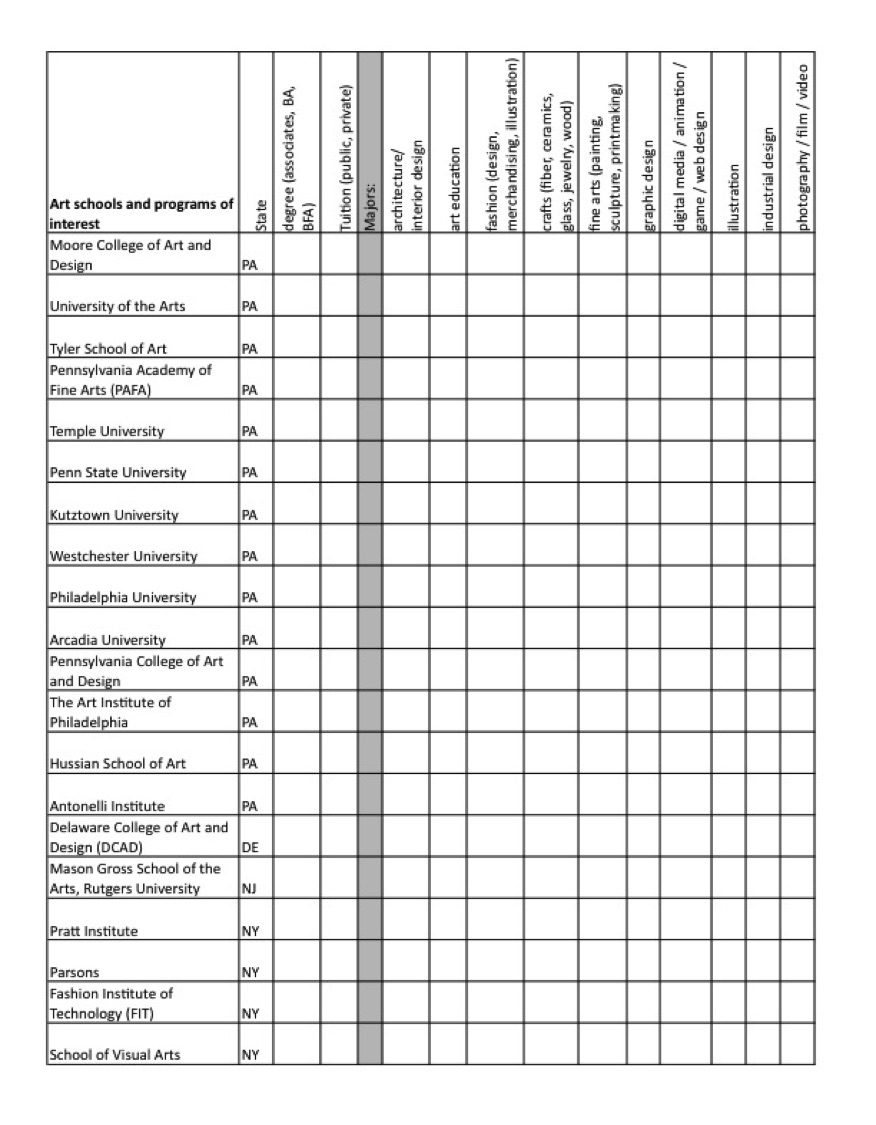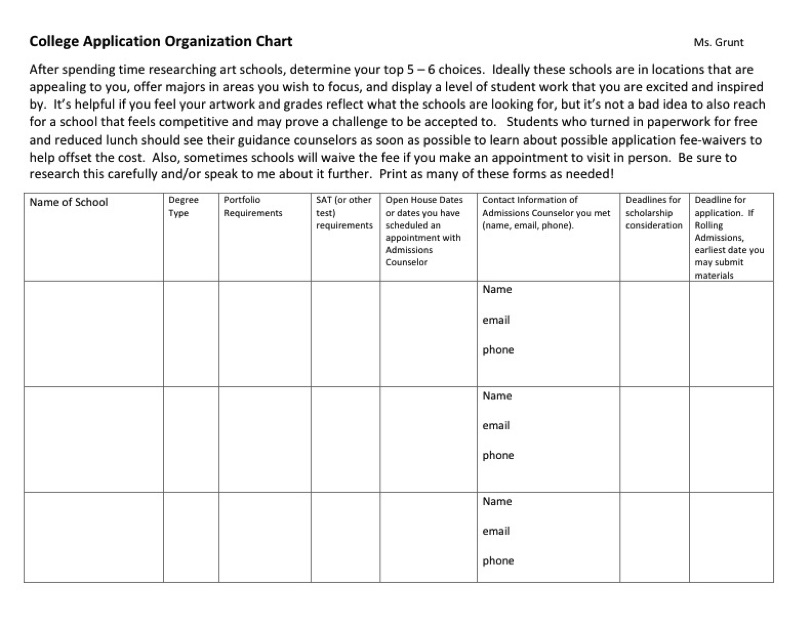 The chart above gives a time-line overview for juniors and seniors wishing to keep track of important tasks and time-frames in which to complete them. Click here to download your own copy.
Click here to download the "College Application Organization Chart", designed to help you stay organized through this process. Shown below.